We all know the experience of gathering with friends and family around a table of good food. It inspires meaningful connection, and encourages you to take time to pause and be present. Sifted's cofounders, Kimberly and Jess know this too - and five years ago it was this universal experience that inspired them to reinvent the office lunch and start Sifted.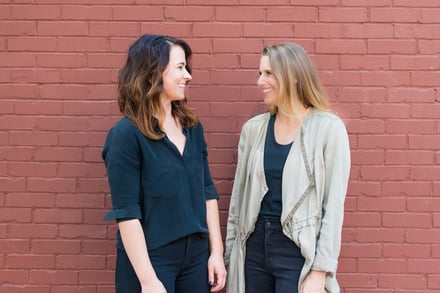 Two Friends Had an Idea
At its start Sifted was just an experiment; two friends who had an idea and started doing it. They wrote up a business plan, built a website, and pitched the idea to a CEO in Nashville. He liked their vision and soon after they were setting up experiential lunch and breakfast at his company three times a week.
Kimberly and Jess gave their all to Sifted, their eaters, and to creating a holistic, community experience. "I remember getting ready for our first lunch, I was nervous, unsure of how it was going to go, and at the last minute - I was like, I need a vibe - so I went to the backyard and yanked the patio umbrella out of the ground and put it and it's 40 pound base in my car, and then hauled it into the client's office and set it up in their lunch space." Kimberly recalls. She also remembers picking flowers from her neighbors garden to put on clients' breakfast tables every morning. It was this kind of care and thought that stood out to eaters and allowed them to fall in love with Kimberly, Jess, and Sifted. In their first year, everything was like that, custom - and the food was sourced from local vendors and chefs - much like many of Sifted's competitors still do today.
"I probably would've continued going in that direction - but Jess was clear that we needed to build something repeatable and scalable, something that worked for a lot of different offices and different people," Kimberly says. Through their experiences that first year, it became clear to Kimberly and Jess that they wanted to be able to control the eater experience from start to finish and not rely on outside vendors to source their food.
The Soup Ladle Moment
This clarity came after what is now known within the company as "the soup ladle moment. "Jess had sourced a lovely variety of soups and fresh baked bread for a client lunch. The chef she hired was hugely talented and the autumn soups were perfect for a cool fall day. But, the day quickly fell apart because the chef brought soup ladles two sizes too big. We completely ran out of food after only half of the eaters came through the line. We knew then that we wanted to own the process end to end so we could deliver the experience we imagined."
They decided to bring everything in-house and hire their own chefs, so they could be free to make unique culinary choices, maintain quality at every level, and collect accurate data to inform future menu planning. This early-stage decision is part of what allowed Sifted to stay bootstrapped. "Instead of building tech first, we focused on creating a scalable and profitable service. We've built the business to this point without taking funding." Jess explains. Jess went on to note that this decision, like every other decision that Sifted makes, revolves around one point which is to deliver a really good in-office food experience that brings staff together.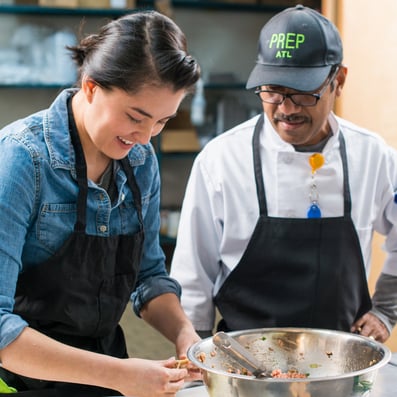 Five years later this is still Sifted's main focus, even as they have grown from a team of two to a team of two hundred serving thousands of eaters every day. And this human-to-human connection that Sifted is rooted in begins with the food and the chefs who handcraft Sifted's menus every day. "We've had to figure out how to scale an inherently heartfelt and creative process of cooking food. It's our culinary team's creative passion that gets carried out and delivered to eaters," Jess said.
As Sifted grew, one of Jess and Kimberly's goals was to support their team's creative process asking, "how can we make this easier for the people creating the product?" Because Kimberly and Jess have never been the ones cooking the food, it gave them space to focus on the ways that they could be the most useful to their culinary team. They found that they could be the most impactful through data collection and analysis, streamlining the processes of portioning, ordering, and tracking consumption patterns across clients so that the chefs could focus their creativity and brainpower on the product.
This is the piece that Kimberly gets most excited about when talking about where Sifted is going. She explained, "This data is not only useful for operations - but we are also able to share it back out with our clients and eaters - so that everyone has an objective way to measure something that is so personal and highly emotional - which is food." This data collection, analysis, and reporting is part of what sets Sifted apart in the industry and it's also part of what allows Sifted to do what it set out to do: to bring people together through food. This people-focused mindset is another huge part of what makes Sifted successful.
"The intention of Sifted was to make these lunches experiential, which is why we hire the people we hire, it's why they stay onsite to manage the experience, not only operationally and logistically but also to tell the story of the food, answer questions, develop relationships with these eaters," Kimberly says.
A People Focused Model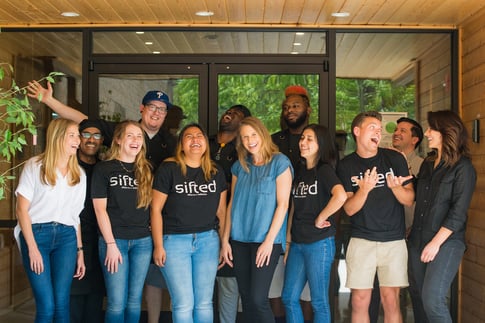 In the beginning, Sifted took a lot of criticism because of their people-focused business model. "Early on we were always hearing, 'it needs to be tech, it has to be a marketplace, you need to reduce your dependence on human capital, and your labor costs will be too high.' But that just didn't resonate with us," Kimberly explains. Since Kimberly and Jess knew that people had to be at the heart of Sifted, they not only cared about creating a client experience that was different but they also set out to create a company experience that was different as well.
It was important to Kimberly and Jess that they offer their team a good quality of life, providing their staff with benefits, paid time off, and evenings and weekends off. For people who have worked in the food and beverage industry their whole lives and are used to working long nights and weekends, Sifted is an anomaly and a breath of fresh air. But it's not only the benefits that make Sifted unique, it's also its spirit of inclusivity and diversity that make it a great company. "I knew if this was going to be a place that I wanted to work at, it had to be a place where you could show up as your full self - with everything happening in your life, with your interests and curiosities," Kimberly says.
And this is truly what makes Sifted so special. Sifted employees come from all walks of life - they are more than just hosts, dishwashers, managers, and cooks. They are also actors, artists, musicians, scientists, and much more. Sifted welcomes all of that. It's a big part of what makes it a great place to work and it's what makes the Sifted product great as well. Kimberly put it like this, "Sifted is really interesting people coming together to serve a really good lunch to people who are also doing really interesting things."
Sifted has come a long way since Kimberly and Jess served their first lunch. It has grown and evolved but it has always stayed true to itself and to its end goal - to create an in-office food experience that really brings staff together.
---
From Kimberly, Jess and the Sifted team - thank you for eating lunch with us. It's been an honor and we look forward to the many lunches to come.