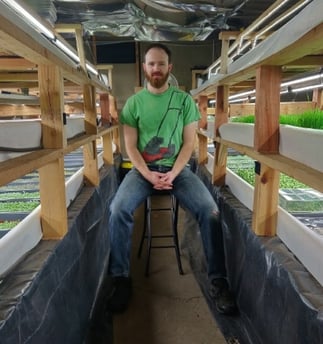 At Sifted our teams consist of dynamic and diverse individuals who make us who we are. Many of our team members come from different walks of life, each with different passions and talents that they bring to their role at Sifted. From our host team to our sales team we are made up of actors, artists, scientists, chefs and more, all of whom bring something unique and beautiful to Sifted.

One of our Denver hosts, Alex Trahan came to Sifted a year ago as he launched his new hydroponic farm business, The Urban Greenhouse. Growing up in a small town outside of Houston, Alex discovered a lifelong love for growing and eating vegetables.

"Growing up I always had a garden. We always had fresh vegetables. When you don't have fresh vegetables, you forget just how good they can be….When people tell me that they 'don't eat green things' or don't like vegetables, I just don't understand! I can only assume they just don't have access to good green things, because when vegetables are really good it's like eating candy!"

It's this desire to share his love of fresh produce that has driven Alex to start his business. Providing his community with fresh, nutrient-rich vegetables is something he is passionate about.
WORKING AT SIFTED
Alex moved to Denver in 2017 to launch his dream business and along the way found a place at Sifted as a part-time host. As many of our hosts find, whether they're a student or a geophysicist with a green thumb, Sifted is a perfect side hustle for people who are working to build their dream life. Alex is part of our Denver team where his love of healthy food and passion for connecting with people has been invaluable.

Graduating from Texas AM with a degree in geophysics, Alex has always had a passion for the earth and its ability to produce. "Hydroponic farming has always been a dream of mine, I've just always wanted to do it," Alex says definitively when I asked how he got into this business. Alex is a person who has always had an interest and love of the earth and its capacity for producing amazing things.

WHAT IS HYDROPONIC FARMING?
For those of us who don't have a green thumb, I asked Alex to explain what Hydroponic farming is. "Hydroponic just means that the plants are grown without soil." In traditional farming, the soil is a medium, containing nutrients, that roots use for support and serves several functions.
In hydroponic farming, there is no soil, but, instead, the roots grow in water and the farmers add the nutrients themselves in a nutrient solution. For Alex's greenhouse, he has taken the time to fine-tune this system, combining existing technologies to find what works best for him and his plants. Some of the ways to do this include growing the plants through a layer of rock, wool, or burlap or inserting them into fine clay balls.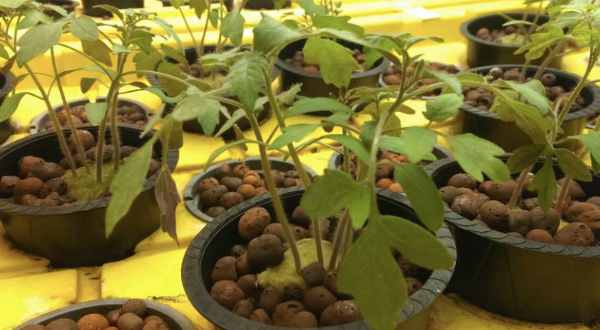 THE URBAN GREENHOUSE
His greenhouse is a room at the bottom of a shared workspace building that he has turned into a home for his plants. In the room are rows of trays with a variety of green plants shooting out from their beds. The trays lay flat with a layer of nutrient solution at the bottom, a layer of burlap above, and the microgreens rooting through it to take in the solution.
"The trays are connected to a reservoir which contains the nutrient solution which is pumped through a tube to the trays." Alex picks up a layer of lush green wheatgrass revealing roots shooting downward through the burlap. "The burlap is in place so the plants can stand up," he explains.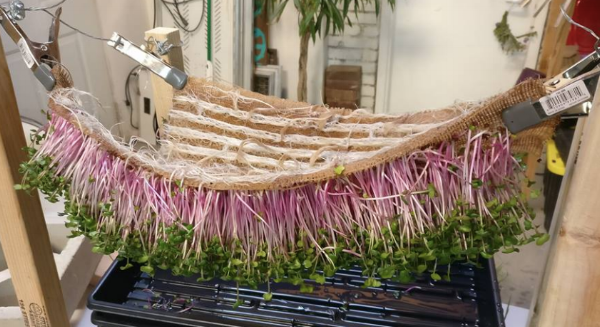 MICROGREENS
Alex currently grows microgreens which are young vegetable greens that are approximately 1–3 inches; they are aromatic and densely packed with nutrients. He works with local restaurants and chefs delivering his greens twice a week. "There is really just no way to get fresher greens than to get them from a local farmer." Alex's greens are delivered and used within days of being picked.


THE BENEFITS OF HYDROPONIC FARMING
Because of the nature of this type of farming Alex is able to grow his greens all year round. On top of this, hydroponic farming on average uses 75% less water than traditional farming. "In hydroponic farming, all of the water that is used gets recycled over and over again so there is essentially no water waste or runoff like there is in traditional farming," says Alex.

He explains that while hydroponic farming will never replace other forms of farming he thinks that it can be a wonderful complement to provide fresh greens to towns and especially cities. "It's one of the great things about this - you can set these greenhouses up anywhere" Alex explains.



LOOKING FORWARD
His vision is to see these types of farms set up all over the country, providing fresh greens to cities everywhere. "During World War II these types of community gardens existed in a way that they don't today. People would grow Victory Gardens and everyone would share what they grew with each other." This is Alex's vision and what gets him excited about what he does. "It's also a really good tool for teaching children and adults about growing food. In normal farming, it's not as easy to see why a seed grows."

Alex sees hydroponic farming as a potential tool to educate people on how things grow and where their food is coming from. He feels that right now there is a disconnect between this generation and the earth we live on and wants to help bridge that gap and get other people as excited about vegetables as he is. Looking toward the future, Alex wants to continue growing The Urban Greenhouse "I want to keep growing and just see how big it can get. Just like my plants - just keep growing," he says smiling.

I asked Alex for any final words about himself and his business. Laughing he threw up a peace sign and replied, "Eat your veggies."
You can find more information about The Urban Greenhouse at www.facebook.com/TheUrbanGreenhouse, or you can follow Alex on Instagram @theurbangreenhouse.co.
---