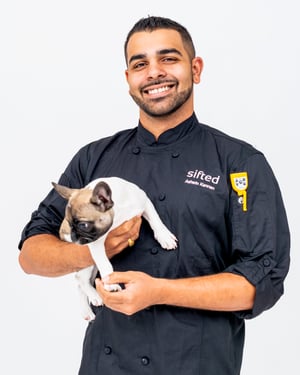 Ashwin Kannan is the head chef at Sifted's Atlanta kitchen! He leads a team of amazing cooks and is responsible for some of the fantastic menus you're enjoying today, such as the new Jamaican Jerk Chicken menu.
Ashwin has worked as head chef at prestigious locations all across Atlanta; and while he exudes confidence as a chef and is clearly a natural at what he does, Ashwin has not always known his way around the kitchen. "Until my freshman year in college, I had never even worked in food service," Ashwin revealed to me. We sat down at the Atlanta PREP kitchen one afternoon after the lunch rush. Between mouthfuls of Monday's Cuban Chicken Bowl we chatted about his life and how he became a chef.
Before his freshman year, when a friend convinced him to get a job as a line cook at a local Atlanta restaurant, Ashwin had never really cooked at all. "I could barely make ramen noodles," he joked. While this may be a bit of an exaggeration, it did come as quite a surprise when Ashwin found himself not only enjoying his job as a cook but actually being extremely good at it. "I had never worked with food in my life, but after a couple of months at the job, it turned out I'm pretty good with food."
When Ashwin discovered his passion for food he was on track to become a lawyer at Georgia State University. Born in Bombay, India, Ashwin and his family came to the United States in 1988 and made Atlanta their home. Always a hard worker, Ashwin said that he got his first job at 15 and has kept working ever since. Ashwin continued his pre-law college path while working his way through school with various food-service jobs which provided good pay and good hours for a full-time college student. The fact that Ashwin actually enjoyed it was just a plus. Until finally, in his third year at college, he decided he wanted to change his path and take cooking more seriously. "I just realized that this wasn't just a side job for me, its something I could really do for the rest of my life."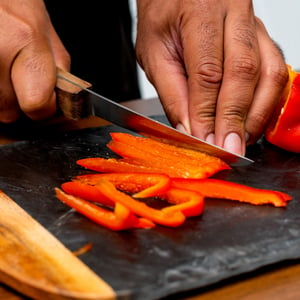 Ashwin transferred to culinary school at the Art Institute of Atlanta in 2009 and had to completely start over. "Almost none of my credits transferred over so I went to school double time - 20 hours a semester." He continued to work as a chef during his culinary training, and Ashwin took what he was doing extremely seriously. He graduated in just 3 years. From then on he has been working as a chef all across Atlanta. "I have really worked in every area of the food industry from sports bars to fine dining," Ashwin explained.
He worked as the su chef at a prestigious Georgia country club where many celebrities would dine. "I learned a lot about managing a staff when I worked there. We also did a lot of catering which is where I first began to understand that side of things," Ashwin said of his experience at the country club. Ashwin has worked as a head chef in various prestigious locations across the city such as the Hilton at the Atlanta airport and at the Atlanta International School. Notably, Ashwin also held a position at the corporate food service company, Compass, where at only 24 years old he became the youngest chef manager in the entire nation-wide company. "I really came into my own working at Compass. It was a great experience and I learned a lot about corporate culture and about customer service in the corporate world," Ashwin said. Finally, in summer 2018, Ashwin found his way to Sifted which he says is the most rewarding job he's ever had.
"Sifted has a really high standard of what they want to serve people - without cutting corners or costs. This is a good mentality when you're working for someone - its important for the people you're working for to always want you to have the best tools to succeed." He explained that as a chef, you want to be able to put your name on what you're doing - from the food to your work ethic, to the end product.
When you speak with Ashwin and eat the food he prepares it is evident that he takes pride in what he does, and Sifted is truly lucky to have him leading the Atlanta team. At the end of my talk with Ashwin, I asked him what it is about food and cooking that he loves so much. He replied, "Let me put it this way, some people eat to live, I live to eat." And I think I can speak for the entire Sifted team when I say, when it's Ashwin preparing our food, we do too.
---