What is Keto?
Keto is one of the hottest trends in the world of food and dietary restrictions today. Unlike other popular food movements, it has actually been around for years, since the 1920s. The Keto diet focuses on limiting carbohydrate intake, and encouraging fat-burning for energy. Although that may seem intimidating, it is actually one of the most achievable and socially friendly diets out there, according to Sifted's Hilary Straw who has been Keto for eight months now.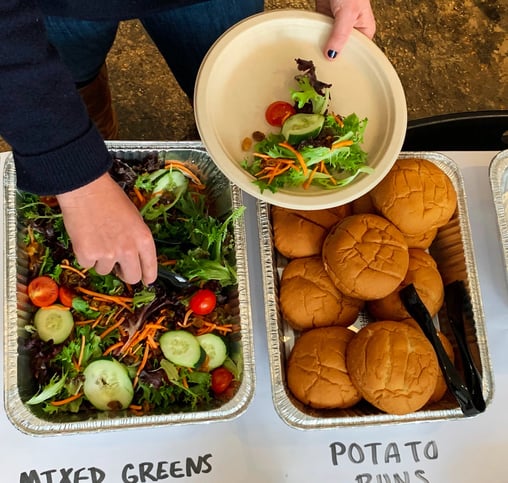 How Hilary Eats Keto
Hilary has done Whole 30, been gluten-free, gone normal Keto, and now she is a full-blown Keto vegan, which she says is more challenging, but has made her feel the best out of all of the diets she's tried. As a Keto vegan, Hilary now gets her energy from fats, so she doesn't experience that sugar-high crash that most of us get around 2 o'clock. She says she feels more mentally balanced and has never slept as well in her life. Hilary says she can still go out with friends, have drinks, and technically, she can eat any food she wants. The key is the ratios; to always be 60-75% fat, 15-30% protein, and 5-10% carbohydrates.
"It's simply a matter of putting into perspective what you put into your body," says Hilary.
Eating Sifted on the Keto Diet
But what about Sifted? What does eating a Sifted meal on the Keto diet look like? First, Hilary goes for the salad. If there's fruit in there, she'll pick it out. At Sifted, there's rarely sugar in our dressings, but if there is, she'll avoid that too. Next, she'll pick out a protein. If you're a Keto-vegan like Hilary, we suggest you go for the tofu and vegetables. If it's marinated in a sauce, drain it out! Sifted's pesto is typically Keto-friendly, but you can also bring your own sauces and of course, always feel welcome to consult your Sifted host for more ingredient information.
At lunch, Hilary aims for nutrient-dense ingredients, like broccoli, kale, or spinach. A Sifted meal tends to be a "splurge meal" meaning it's difficult to calculate exactly how many carbohydrates you are taking in. But Hilary says she has never been thrown out of ketosis by a Sifted meal!
---
If you are going keto for health purposes, it's always a good idea to check with your doctor before adding new foods to your diet.