The first national caterer to donate 100% of leftovers everyday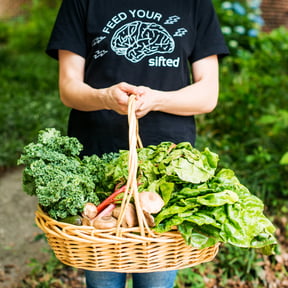 At Sifted, we are committed to being a company that protects the health and wellness of the environment and the communities around us. That's why we have decided to take our vision to new heights by becoming the first catering company to launch a national, portfolio-wide food donation program that will feed thousands of people in need in communities across the country.


We are proud to be partnering with Copia, a market-leading food donation platform, to take our vision for a scalable food donation program to the next level. Copia's technology streamlines the donation process, allowing us to safely and easily deliver 100% of our uneaten food to nearby nonprofits in need from any location.


How it works:
Sifted serves chef-made lunches to high-growth companies in their offices daily or weekly.

Using behavioral science, consumption forecasts and smart menu-ing, we portion down to the ounce to limit waste at the source. But, leftovers happen.

When there are leftover lunches, Sifted will use Copia's app to enter the type and amount of food leftover after lunch service.

Copia's system instantly matches the donation to a nearby nonprofit who needs that exact type and amount of food and automatically dispatches a driver to pick up and deliver the donation.

Copia's service, available in all 50 states, will allow us to easily expand its donation program as Sifted grows to new cities across the United States.

"Copia's technology brings a new level of sophistication to our donation efforts. With this new partnership, we can ensure no lunch goes to waste while tracking our nation-wide impact more granularly and reporting valuable insights to our clients," said Sifted's co-founder, Jess Legge. "With Copia, we're able to reduce our edible food waste to zero and ensure our clients' impact extends outside of the office and into their local community."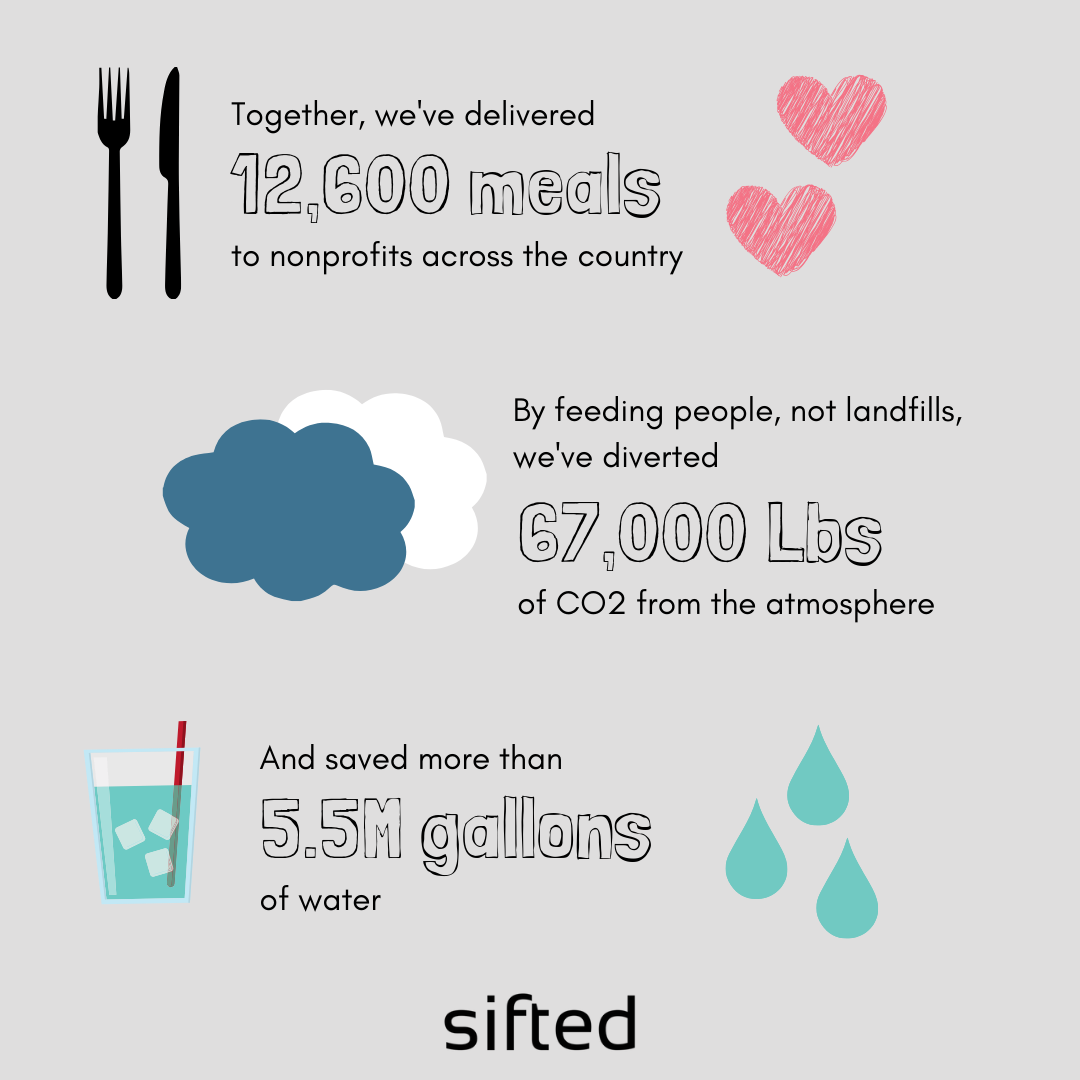 Sifted's national presence will deliver coast-to-coast impact. In just two months since pilot-testing Copia's service, we have donated more than 12,600 meals to Copia's network of nonprofits in Atlanta, Seattle, Austin, Denver, and Nashville.
Sifted's meals will be able to reach a diverse range of nonprofits serving the unique needs of local communities. For example, in Denver, where food insecurity among low-income families is rising, Sifted's donations will reach Sun Valley Youth Center, which provides access to meals for youth who face significant challenges acquiring healthy food options.


"We are thrilled to partner with Sifted," said Copia Head of Sales, Hayley Seed. "At our core, we're in the same business of feeding people and we both agree that quality food is a powerful tool to build community. Regardless of who we are feeding -- people in need or gainfully employed -- together we can reach them all."
---
About Copia
Every day in America, we waste 3 times more food than there are hungry mouths to feed. The truth is: hunger is not a scarcity problem, it's a logistics problem, and Copia is out to solve it. Copia's technology platform helps businesses track and manage food waste; donate edible excess food to those in need, and reap significant financial benefits from reducing waste and feeding the community. This year, Copia will feed more than 2 million people with food that would have otherwise gone to waste. Copia is recognized as one of the top 8 startups coming out of Y Combinator. Copia's founder and CEO, Komal Ahmad, was recently awarded Forbes 30 Under 30, the Nelson Mandela Humanitarian Award, and was named one of Fast Company's "Most Creative People in Business." To learn more about how your business can reduce food waste and feed the community, visit gocopia.com.
About Sifted
Founded in 2015 by Kimberly Lexow and Jess Legge, Sifted is the outsourced chef team to the nation's fastest-growing companies. By harnessing behavioral science and data analytics, Sifted creates high-impact lunch programs that drive employee engagement and satisfaction. With a team of in-house chefs and dedicated account managers, Sifted is the only national end-to-end provider of recurring lunch programs. As a bootstrapped, high traction startup, Sifted has grown to five cities and served over 1 million lunches to the nation's biggest brands. To learn more about Sifted, visit sifted.co.